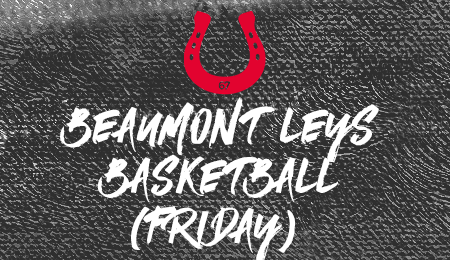 Beaumont Leys - Free Friday Night Hoops
A Leicester Riders Foundation community development session based at Beaumont Leys School.
The place to take your game to the next level! Admission is completely free
The session is aimed at girls and boys aged 12 - 17 years old.

Coached by fully qualified Leicester Riders Foundation Community Coaches.
Use this session as your outlet to come and showcase your talent with participants of similar ability.
Session 5 PM til 7 PM
Capacity - 25
When session is near or at full Capacity, if you do not arrive 20 minutes after session has begun, your place will be given away to allow others to participate
Please make us aware if you are not coming to session, if you have booked on
Please ensure you book as yourself for safety purposes
Ensure you have booked on prior to arrival and ticket is available to be shown to staff
Beaumont Leys School Anstey Ln, Leicester LE4 0FL
{{ current_date | formatMonth }} - {{ current_end_date | formatMonth }}
{{ current_date | longDate }} - {{ current_end_date | longDate }}
Day
Time
Venue
Class
{{class.class_start_date | longDate2}}
{{class.class_start_date | formatTime}} - {{class.class_end_date | formatTime}}
{{class.studio_name}}
{{class.title}}
;